Short cuts for curly hair demand lots of experience and care on the part of the hairdresser because certain measures have to be taken when cutting curly or wavy hair that aren't necessary with other types of hair.
At I Love Riccio we are well aware that an overly drastic cut can create a fluffy, shapeless and backcombed effect that is very difficult to manage and eliminate.
Thanks to the exclusive X-CURL® cut patented by Fulvio Tirrico, Italy's leading Curly Hair Expert, you can rest assured that your hair will look its absolute best, even with a sumptuous short cut.
The unique thing about our cut is that it is carried out on dry hair.
The risk of badly cut curly hair is greater with a wet haircut, the method usually adopted for all types of hair.
Curly hair is unique though because it can potentially double in length when it is wet!
By carrying out only dry cuts, the I Love Riccio Curly Hair Experts are able to understand exactly how much hair can be chopped off without losing volume and shape.
Take advantage of our specific curly and wavy hair expertise and there will be no more nasty surprises when you get your hair cut!
All that's left for you to do is choose the short cut for curly hair that best suits your face.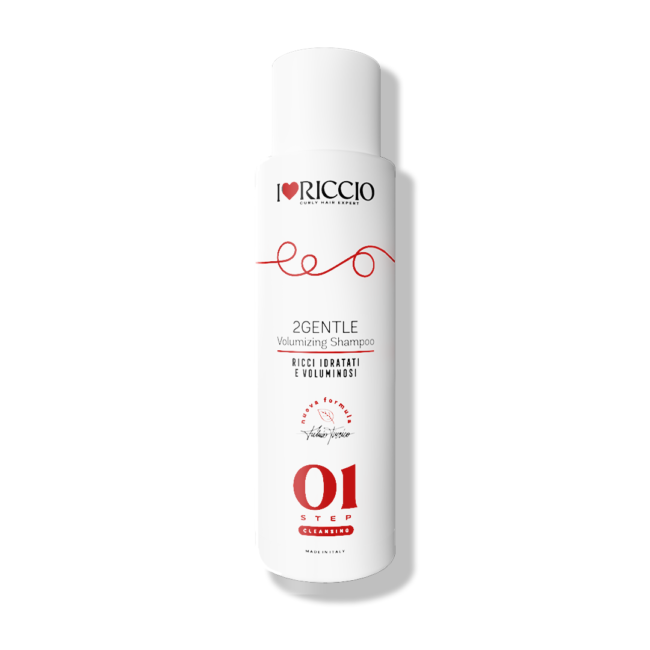 I Love Riccio 2Gentle® Mini Size 100ml
Moisturizing protein shampoo in mini size for curls with medium to fine texture.
13,00

€
I Love Riccio 2Gentle® Volumizing Shampoo
Hair texture Fine-Medium Curls
20,00

€
Asymmetrical short curly cuts
The asymmetrical short cut for curly hair is a spunky style which gives you the opportunity to play around with different styling products to give your locks movement.
Before choosing the asymmetrical short cut that best suits your face and type of curly hair, remember that not all asymmetrical cuts are so straightforward to manage.
Cuts that are shorter at the back and longer at the front are definitely the easiest to maintain.
But if you opt for an asymmetrical cut with sections of markedly different lengths, it is important to get the help of your Curly Hair Expert every now and then in order to keep your cut defined and looking great.
Asymmetrical cuts are particularly effective in the summer because they give the hair movement while keeping it cool also on the hottest days.
With these cuts it is essential to choose treatments and styles that suit your short curly hair.
Shaved short curly cuts
One type of asymmetrical short cut is particularly fashionable and stylish at the moment.
We are talking about the cut in which the hair is shaved on one side and short, down to the ears, on the other.
This cut requires lots of experience, expertise and dexterity on the part of the hairdresser to be carried out to perfection.
It is a type of cut that must be periodically maintained to keep it at the right length, something that isn't possible without the help of a hairdresser that specialises in cutting and taking care of curly hair.
If you choose to put your trust in I Love Riccio you'll get all the support you need to manage every phase of your short shaved cut, including the moment you decide you want your hair to be the same length on both sides again.
Short cuts for afro hair
Afro hair is very versatile and can adapt to a myriad of original and modern short cuts.
Being very fragile and prone to forming knots, the key thing is to look after it in the right way.
The best afro short cuts are mohawks, where the hair is cut short at the sides, and short and geometric cuts.
Very short cuts, almost shaved or longer at the centre of the head, are also good options.
The latter are perfect afro hair cuts for framing the face and even more effective and original when combined with particular tints.
On the other hand, cuts that involve unnatural straightening or straightened fringes are to be avoided because they can be particularly damaging for curly hair.
Short curly cuts: Curly bob
The curly bob, the short curly hair cut which is shorter at the back and longer at the sides, is one of the most popular styles of recent years.
Almost exclusively associated with straight hair traditionally, it has also become an on-trend cut for those with curls, provided it is carried out correctly. To perform this cut perfectly on curly hair, it is crucial to remember that the length of curly hair changes dramatically when wet as compared with dry.
This is why, if carried out on wet hair, there is the risk that too much might be chopped off and a marked asymmetry created between the back and the front, resulting in a step effect.
Needless to say, such a mistake would completely nullify the real objective of cuts that are long at the back and short at the front: a gentle layering effect that gradually and naturally becomes asymmetrical as it gets closer to the face.
In fact, unlike straight hair, when it isn't cut properly curly hair tends to become fluffy and unmanageable.
When a curly bob is cut by a professional hairdresser that specialises in curly hair, the layering is more gradual and the length at the back won't be too short, also enabling you to gather the front part of the hair using hairpins and bows to create really original hairstyles.
Whatever short curly cut best suits your face shape, remember that the first rule for achieving healthy and beautiful hair is to take care of it every day.
If you have fine curly or wavy hair, for example, take the plunge with a stylish short cut and use a shampoo that is able to provide support, volume and hydration.
2Gentle is the I Love Riccio shampoo formulated to fulfil this need, delicately cleansing your fine hair to give it maximum volume.
Also available in a travel size version. .
Carlotta Stacchini
Hi! My name is Carlotta Stacchini and for over 10 years I have been working with words to turn my beauty experience into useful tips for those who read my articles!
I am a professional beauty blogger and I am also very curly, so my work focuses a lot on hair care!
I love to bring all my experience together to create guides that can help women experience an enjoyable and satisfying daily beauty routine.
I firmly believe that personal care and cosmetics can change, one day at a time, every woman's perception of herself.
Because feeling cared for has incredible positive power over one's self-esteem!
Read more articles by Carlotta Stacchini