Shampoos for
curly hair
Shampooing is a key moment of wellbeing and care for your curly hair.
The I Love Riccio shampoos are the same ones we use in our Salons; professional products used by our Curly Hair Experts that showcase the natural beauty of your curly or wavy hair. Take care of it from the washing stage onwards! Well begun is half done and this old adage couldn't be truer when it comes to curly hair!
The formulas of the I Love Riccio products contain natural ingredients and are free of parabens, silicones and sulphates. Formulas that guarantee results and maximise your curls: as Curly Hair Experts we use the products ourselves on thousands of customers with wavy, curly and afro hair in our Salons.
Discover the products
Benefit/Desire

Curl Type

Product Type

Hair Thickness

AfroLove Magnifish Cleansing Co-Wash Cream
Co-Wash cleansing cream with an emollient and anti-frizz action, to nourish in depth without dehydrating.
20,00

€
Purify Curly purifying shampoo I Love Riccio
Purifying shampoo, eliminates build-up effect for cleaner, lighter curls.
23,00

€
I Love Riccio CurlShine® Hydrating Shampoo
Hair texture Medium-Thick Curls
20,00

€
I Love Riccio Curlshine® Mini Size 100ml
Moisturizing shampoo in mini size for curls with medium to coarse texture.
14,00

€
I Love Riccio 2Gentle® Volumizing Shampoo
Hair texture Fine-Medium Curls
20,00

€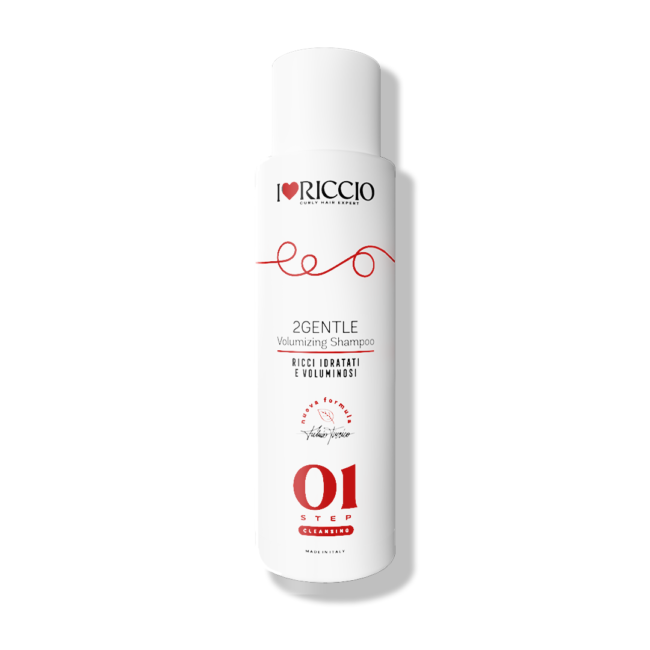 I Love Riccio 2Gentle® Mini Size 100ml
Moisturizing protein shampoo in mini size for curls with medium to fine texture.
13,00

€
I Love Riccio Wash'n Go® Co Wash Cleansing Cream
Co-wash cream to cleanse and deeply moisturize curls with coarse texture.
20,00

€
I Love Riccio Sun Defence Protective Shampoo
Moisturizing and protective shampoo against the action of sun, salt and chlorine.
20,00

€
Tip for top curls
Dry curls on the days following washing?
Wet them with a little water, apply a blob of Balby Cream and dry. They'll look perfect again!
I Love Riccio Silver Curl No-Yellow Shampoo
Anti-yellow shampoo specifically for removing golden, red and yellow highlights from curls.
20,00

€
CurlyKids Ariel Hydrating Shampoo
Gentle soothing with no-tears formula for moisturised and soft curls.
20,00

€
Drupe'n Wash Shampoo Uomo CurlyMan
Mild shampoo with antioxidant and moisturizing action.
20,00

€
I Love Riccio Gift Card
I Love Riccio gift card makes the perfect present for yourself or for a friend or loved one with curly, wavy or afro hair.
0,00

€
A complete range of shampoos
Curly haircare begins with shampooing because if you don't wash curly hair properly, respecting its physical characteristics, the end results can often be quite disappointing.
In such scenarios you'll feel that you haven't really done your hair justice. Luckily, we at I Love Riccio know all about the different types of curly and wavy hair; for this reason we have created a complete line of shampoos for curly and wavy hair.
Whether your hair is very fine or thick, more or less dry, in this section of our online shop you'll be able to find the right shampoo to getting it looking its best. The same shampoos for curly hair that we also use in our Salons, fruit of our passion for curly and wavy hair.
Shampoos for
curly and wavy hair
of all textures
Our shampoos for curly hair have cleansing properties that differ according to the type of hair on which they are used.
2Gentle® is a delicate protein shampoo that is ideal for fine curly and wavy hair. It provides volume and deep hydration but without weighing down the hair, enabling it to provide support and shape;
CurlShine® is a cleansing cream, a very delicate shampoo designed to provide deep hydration to medium-thick hair;
Wash'n Go® is a co-wash cream, perfect for washing very dry and frizzy curly or wavy hair and restoring all the moisture it needs;
Sun Defence is a shampoo for curly or wavy hair specifically designed to protect against the sun. It is ideal for removing salt and chlorine residues and protecting the beauty of curly hair during the warm season.
Silver Curl is our solution for those that want to eliminate gold, red and yellow tints from their curls. A no-yellow shampoo ideal for those that want radiant curly or wavy hair free of undesirable coloured tints.
Purify Curly is the purifying shampoo, suitable for all curly hair types, designed to finally say goodbye to the build-up effect, that is, the accumulation over time of an excess of products and environmental impurities on the surface of the skin and hair.
CurlyKids Ariel Shampoo, our hydrating shampoo for children's curls so you can start looking after their curly locks at a young age.
CurlyMan Drupe'n Wash Shampoo, to revitalise his curls with the energising and reinvigorating action of Ginseng extract. Designed to strengthen the scalp and stimulate hair growth.
AfroLove Magnifish is the cleansing co-wash with nourishing, softening and anti-frizz properties, to wash and hydrate at the same time without drying out and weighing down afro hair.
I Love Riccio shampoo is the first step towards taking comprehensive care of your curly hair. Curly hair requires extra care and attention, not just from the Curly Hair Experts in our Salons, but above all at home, on an everyday basis.
Choose our specific treatments and love your curly hair every day!
Made in Italy
Customer assistance at all times
Pay in instalments
Safe payments
Return within 14 days
Fast delivery