The mid-length curly cut is perfect for those that love half measures and don't want to compromise on volume.
A cut that will add character and intrigue to your face without compromising on the charm of soft hair that falls delicately onto the shoulders.
We are experts in curly hair and well aware of just how much dry and wet curly hair can differ in length.
For this reason, even in the case of a mid-length cut, it is essential to opt for our X-CURL® cut, patented by Fulvio Tirrico, Italy's leading Curly Hair Expert!
By cutting the hair dry you won't unexpectedly find yourself with a short cut, the biggest fear of those who go to the hairdresser with the aim of getting a mid-length cut!
Mid-length curly haircut
The advantage of cutting the hair dry to obtain a medium length is that you can see the direction your curls are taking and the movement of your hair, step by step.
For a perfect cut, it is essential to follow the natural movement of the hair, without forcing it in unnatural directions.
Another step we take when performing a mid-length cut on curly or wavy hair is to try and keep the front of the hair fairly long and full wherever possible.
This will give the impression that the mass and volume at the front hasn't been affected by the cut, with your hair remaining voluminous, albeit shorter, as a result.
If your curly or wavy hair is particularly fine, a mid-length layered cut is ideal for providing volume and movement.
Complete your daily haircare routine with a gentle shampoo specifically designed to provide support for this type of hair, such as our 2Gentle shampoo dedicated to beautiful fine and medium-length hair.
For an ultra-delicate wash that doesn't compromise on full-bodied volume.
I Love Riccio Wash'n Go® Co Wash Cleansing Cream
Co-wash cream to cleanse and deeply moisturize curls with coarse texture.
20,00

€
I Love Riccio 2Gentle® Volumizing Shampoo
Hair texture Fine-Medium Curls
20,00

€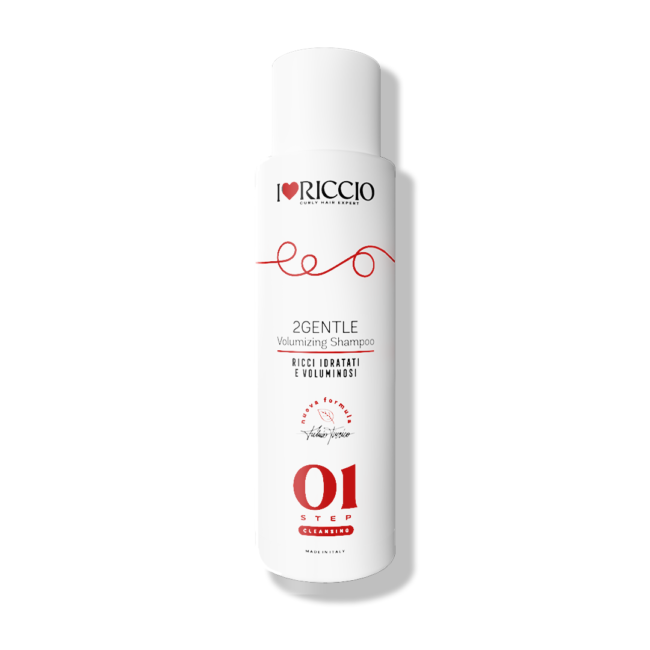 I Love Riccio 2Gentle® Mini Size 100ml
Moisturizing protein shampoo in mini size for curls with medium to fine texture.
13,00

€
Mid-length curly haircuts: the bob
The bob is an irregular cut in which the hair is chopped shorter at the back and left longer at the front.
Usually thought of as a short cut, it can also be cut in a medium length.
This is because you can take advantage of the fact that the length at the front, at the sides of the face, is longer and enables you to achieve a very striking and particular medium length effect.
The bob cut is the perfect solution if you want to cut your hair but still have soft locks that brush the shoulders.
Cool in the summer, because it leaves your neck uncovered, it will allow you to style your hair thanks to the lengths maintained at the front.
The medium bob will showcase your curly or wavy hair, giving volume, body and definition to your locks.
Mid-length curly haircuts: Curly long bob
There is a very interesting variant of the bob which thanks to a minor difference in length guarantees more uniform average lengths.
Unlike the bob, the lengths of the long bob are less marked, usually going down to just above the shoulders at the back.
With this cut, the hair is more or less the same length both front and back and can be styled in lots of different ways.
In curly hair, the curly long bob highlights the natural wave of the hair, giving it movement while at the same time guaranteeing a practical and easy to maintain cut.
The choice of whether to go for the bob or the long bob will depend on the analysis of your hair.
When you visit the I Love Riccio Salon your Curly Hair Expert will assess your hair before deciding which cut best suits its natural movement.
We know just how important it is to work with the natural wave of the hair.
For this reason the consultation is one of the most important parts of our Method, which will subsequently revolve around the X-CURL® cut, performed on dry hair to avoid any nasty surprises!
For this type of cut and length, the hair must be perfectly hydrated deep down.
If your hair is very dry, add a specific cleanser to your hair care routine to restore the optimum hydration of thick curly hair, which tends to get damaged quite easily.
I Love Riccio Wash'n Go non-foaming cleansing cream is perfect for delicately washing your scalp and lengths, restoring and preserving their natural hydration.
Mid-length curly haircuts: the pixie
The pixie is one of the most iconic short cuts, recalling all the style of the fabulous 1960s!
Perhaps you didn't know, however, that there is also a medium-length variant, which particularly suits curly hair.
This cut adds three-dimensionality to all of the hair.
The medium pixie cut is perfect when you're not sure whether to go for a short or mid-length cut because it allows you to cover both bases!
Being quite a complicated cut, to avoid disappointing results that take a long time to grow out, it is essential to go to haircare professionals that specialise in curly hair.
In addition, to keep the lengths in perfect proportion it will also be necessary to schedule multiple touch-ups so your hair doesn't lose its shape.
Whatever the medium-length cut you want for your curly or wavy hair, remember that nothing is impossible!
By putting your faith in the expertise of I Love Riccio and our specialist knowledge of this type of hair, you can rest assured that you'll go home with the best possible version of the cut that you choose.
Carlotta Stacchini
Hi! My name is Carlotta Stacchini and for over 10 years I have been working with words to turn my beauty experience into useful tips for those who read my articles!
I am a professional beauty blogger and I am also very curly, so my work focuses a lot on hair care!
I love to bring all my experience together to create guides that can help women experience an enjoyable and satisfying daily beauty routine.
I firmly believe that personal care and cosmetics can change, one day at a time, every woman's perception of herself.
Because feeling cared for has incredible positive power over one's self-esteem!
Read more articles by Carlotta Stacchini